Is your business searching for new markets? Why not consider using translator tools to expand your company's reach? Your organization can experience all the benefits of expanding its reach to new customers, investors, and more.
From machine translation to specialized translation software, we will look at the benefits and drawbacks of each tool, so you can make an informed decision about which translation tool is right for your business.
What are Translator Tools, and How Can They Help in the Translation Process?
Translator tools are software used to translate a company's document. Some of these tools also support localization, making it easier to expand into new global markets.
Translation technology allows businesses to easily and quickly translate their documents. They also provide the following benefits for companies:
Ensure quality by checking for spelling and grammar errors
Increase consistency throughout the content by storing previous translations that can be reused on future projects
Improve the operational efficiency of automating translation management tasks
Accelerate time-to-market by enabling the production of more content in less time
Related Post: Why Fast Translation Services Are Not Luxury Today?
Types of Translator Tools Available for Businesses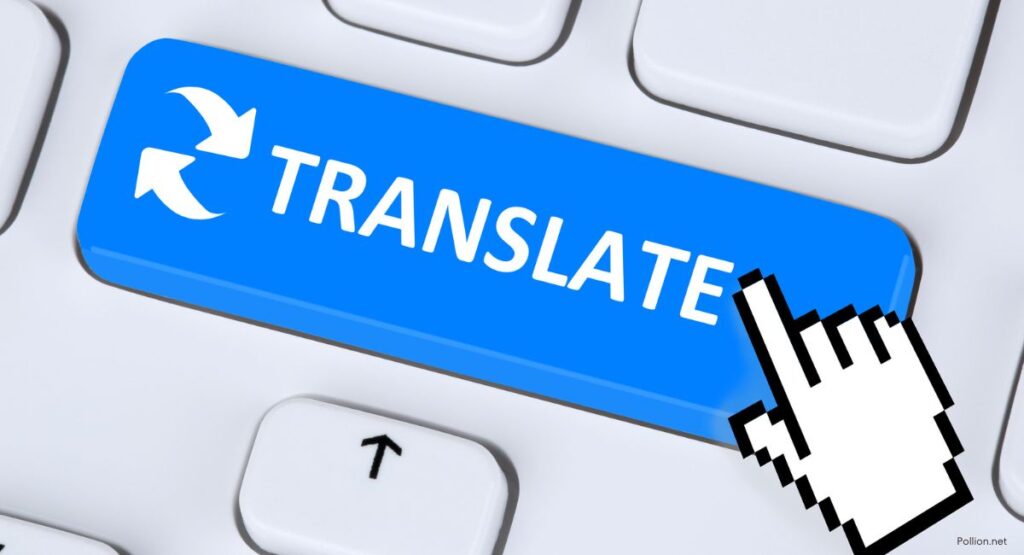 Businesses have a wide range of translator tools, and the number of tools keeps growing as technology advances. In the following sections, we'll review some of the most popular translator tools for businesses of all sizes.
Computer-Assisted Translation (CAT) Tools
Software programs, called "CAT tools", help translators in their work. The software works to translate the meaning of the text from one language to another, making the translation process easier and faster for the human translator.
These translation tools automate translation tasks. For example, the translator can input text in the CAT software in the source language and divide the text into segments (phrases, sentences, or paragraphs). In addition, the software saves each source segment and its translation in a database called the translation memory.
The more content the CAT software translates, the more translation matches the tools can reuse. As a result, CAT translator tools can significantly speed up the translation process and consistency in business document translations.
These translation tools automate translation tasks. For example, the translator can input text in the CAT software in the source language and divide the text into segments (phrases, sentences, or paragraphs). In addition, the software saves each source segment and its translation in a database called the translation memory.
The more content the CAT software translates, the more translation matches the tools can reuse. As a result, CAT translator tools can significantly speed up the translation process and consistency in business document translations.
Machine Translation (MT)
The next translation tool on our list is machine translation. Machine translation uses an automated system that translates a document without help from a human translator. There are several different types of machine translation tools, including the following:
Rule-based machine translation: translates based on a set of rules that can be adjusted.
Statistical machine translation: is a system that translates text based on a large body of text (also called the corpus) that the system is trained on.
Neural machine translation: is a translator engine powered by AI and can mimic human thinking and processing of language. These translator tools can understand complete sentences and paragraphs rather than translating one word at a time.
Terminology Management Tools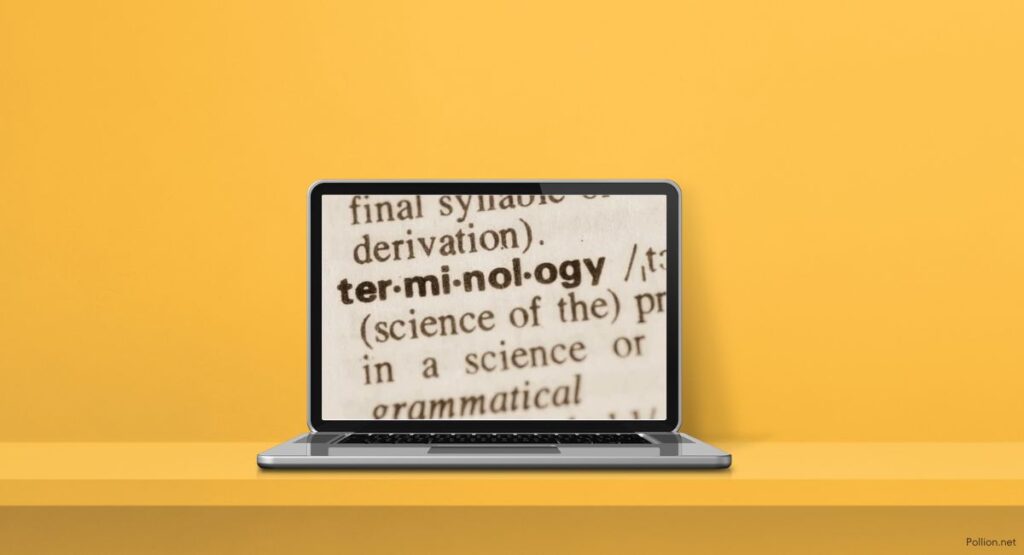 Terminology management tools are used to manage all the procedures used for storing, editing, and presenting terminology. In addition, these translator tools are helpful for building and maintaining a database of unique words for a specific company, industry, author, and more.
The process of terminology management can include the following activities:
Collecting words and phrases of interest
Documenting terms in a collection
The translator and client can quickly review the database together
The database offers secure storage and data privacy
Stored glossaries are easy to share with other translators
Terminology management tools also make it easy to update the database as needed
In the next section, we'll review the best translator tools available and offer a short overview of their features and capabilities.
The Best Translator Tools for Businesses
At Pollion, we aim to serve our customers with the best Quality can be provided. Thus our linguists team use Translator Tools based on the size and type of the project we are working on. Each of these tools has its pros and cons. Choosing the right tool for your project's requirements is essential, so be sure to visit each website to learn more about each tool's functionality and features. Below is a list of the top Translator Tools in the market:
1. Linguee
Linguee is an online translator tool that can work for your organization's translation projects. It can be used as both a translator and a dictionary for a broad range of language pairs.
The tool includes Spanish, Russian, Czech, and more languages. The Linguee app is also available for both iOS and Android operating systems. Most businesses find that Linguee is one of the most straightforward translator tools to use. It can translate both files and text.
2. SmartCat
Next on our list of translator tools is SmartCat. SmartCat uses AI to translate all types of business documents. The tool can be used for software-based translations, providing various options for the translation process. SmartCat is a platform that easily handles translation projects such as a single file or an entire website.
The tool can also be integrated with other tools, such as:
Git
Akeneo
Figma
Zendesk
Google Docs
And more
SmartCat offers translation for content into over 280 languages and can handle over 50 file formats, including DOC, JPEG, PDF, and more.
3. Transifex
Transifex is next on our list of translator tools for businesses. This service is a translation management system and CAT tool based in the cloud. It's suitable for website assets, apps, and software localization. The businesses that most often use this tool are startups and global organizations.
Transifex can be configured for complex, automated workflows and can keep documents from being overwritten by other translators. In addition, the tool offers community translation, where one group of translators makes suggestions and votes on the best translation(s).
Translator Tools vs. Hiring a Translation Company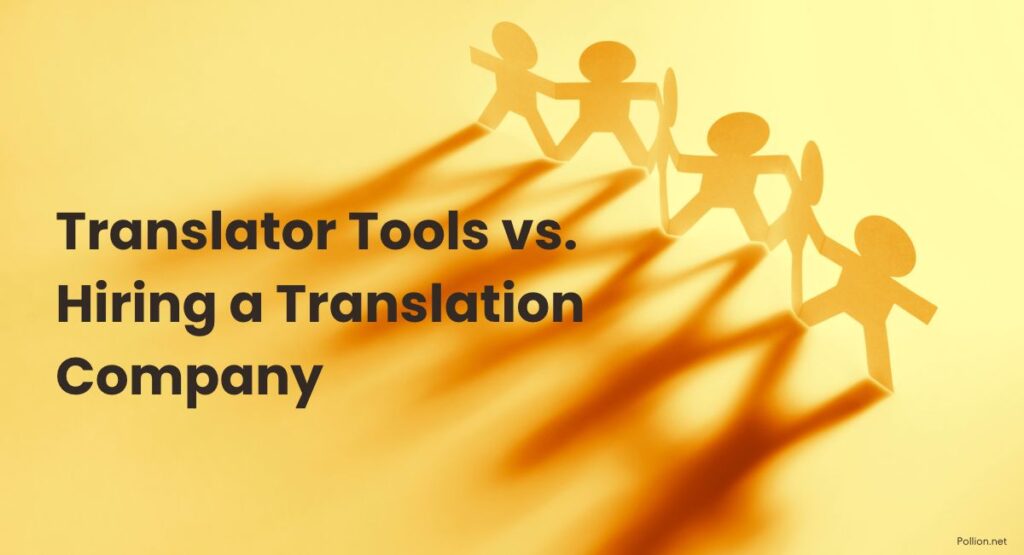 Your business needs to translate documents, but should it use translator tools or hire a translation company? Then Pollion is one of the best options in the market, as we don't compromise Quality for Fast Delivery. And our Team will always be available to take your request.

GET A QUOTATION WITH A FREE TEST NOW
In the following sections, we review some of the benefits and disadvantages of relying only on translator tools or human translators.
Pros of translator tools:
Many free tools are easy to access online or via apps, making this a cost-effective solution
Turnaround times are fast with translator tools
It's easy to translate between multiple languages while using one tool
Translation technology continues to improve rapidly
Cons of translator tools:
Translator tools can have a low accuracy rate
Accuracy may also be inconsistent across different languages
Machines are unable to translate context
Mistakes can be costly and ruin a company's reputation/brand
Translator tools may not always work
Translation Services and Human Translation
Large, complex projects are normally better to be handled using translator tools. And Translation services, such as those offered by Pollion, often use them to maintain consistency throughout the project, and to ensure faster delivery of the project.
Translator tools (like those listed earlier in this article) and human translators have a higher rate of accuracy
Humans can interpret context and capture meanings, while some translator tools only translate the words
Translation services review their work and provide a quality assurance process
Professional translation services also handle idioms better compared to translator tools
Translation services can also spot content where literal translations aren't possible and find the best alternative
Disadvantages of Translation Services
Turnaround is longer
Translation services are usually more expensive
If working with one translator, you may be limited to the languages they work with
When is it Better to Use Translator Tools vs. a Translation Company?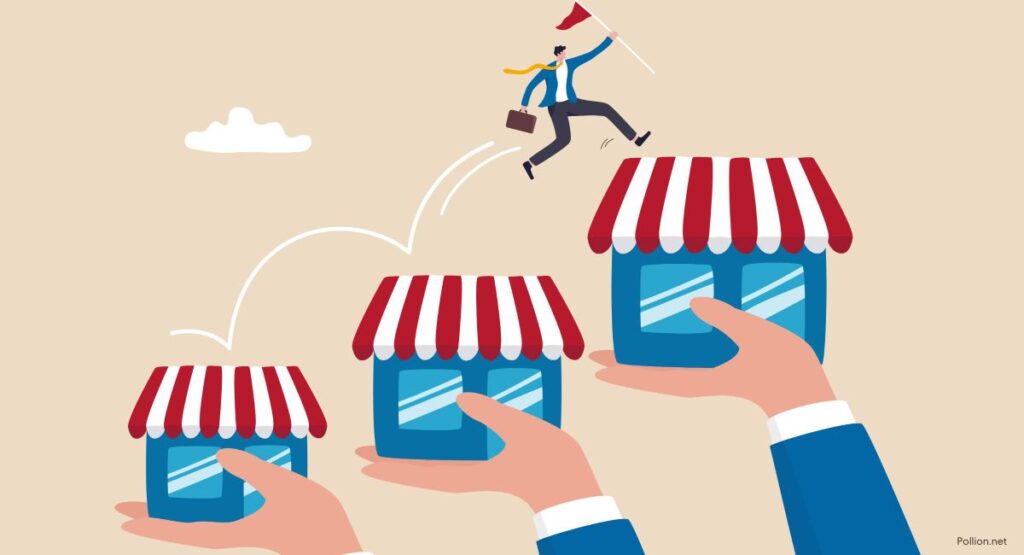 Using translator tools for bulk content is usually best when general meaning is enough and your company has a tight budget. In addition, you may consider using translator tools when translating a resource for research or internal company documents. Finally, translator tools may be the right choice for large pieces of content that a human translator can later improve.
On the other hand, a translation company may be more suitable when accuracy is essential for the project. It's also the best choice when the target audience will use the material. A translation company is also the best option when accurate translations are essential for legal documents, product instructions, medical guidelines, and more. The company is also more suitable when translating marketing material for creative uses.
Tips for Maximizing the Effectiveness of Translator Tools
Your business is ready to scale, but the budget is too tight to hire a translation company. What can you do? There are ways to maximize the effectiveness of using translator tools and human translators together. Here are some tips you may consider for your translation projects:
Automate and scale the workflow: using automated translator tools is an effective way to ensure translations are accurate and fast. Setting up project management, processes, and quality assurance can also provide high-quality document translations.
Work with human translators: along with your automated translator tools, consider working with a network of human translators. Working with a team or network of human translators means having access to more languages and those with expertise in your industry or the subject matter. When combined with automated translator tools, you can be confident the translation is accurate, and the work can be done quickly.
Optimize translation budget: to keep costs low, you can have documents translated by translator tools and edited by a human translator. This solution usually saves money and improves productivity while maintaining quality and accuracy.
Create a glossary: This tool offers terms and other information for human translators. The translators understand the correct words to use and those to avoid. The glossary can be created in-house and uploaded to the cloud or another platform, where it's easily accessible.
Conclusion
Your business can find a variety of translator tools to translate business documents into other languages. But these may not always be a suitable solution. In that case, you may want to consider using translator tools and human translators together to create an effective translation process that's cost-effective, resulting in high-quality, accurate translations.